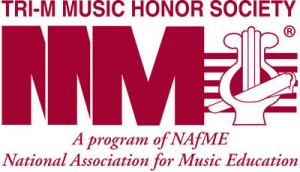 Tri-M is an international music honor society with over 5,500 chapters at middle and high schools around the world. It is designed to recognize students for their academic and music achievement. Grafton High School is fortunate to have their own Tri-M chapter which was chartered in 2005. The Faculty Adviser for the Grafton High School Chapter is Mr. Darren Kirsch, and the Parent Representative is Teresa Kaw-uh. For questions about Tri-M, please contact her at tri-m@graftonband.com.
Tri-M stands for Modern Music Masters and is an international program dedicated to the recognition of exceptional music students that meet the music, academic, and character criteria as recommended by the National Association for Music Education. Tri-M is composed of junior and senior students enrolled in music classes at Grafton High School who also participate in additional musical ensembles and demonstrate high academic achievement. It is truly an honor to be selected as a member.
Membership Requirements
Applications for induction into the Tri-M Music Honor Society are made available in March of each year, for membership in the following year. Applications are due back April 25th, and inductions take place at the Spring Awards Banquet. Click each of these links to download the application and letter of recommendation forms.
Applicants must:
Be a rising Junior or a rising Senior.
Be currently enrolled in one GHS music ensemble (instrumental or vocal).
Have a 3.5 GPA in music class and a 3.2 GPA overall.
Participate in District Auditions, Senior Regional Orchestra, and/or Solo & Ensemble.
Participate in one of the following additional performance activities:
– an additional GHS ensemble (e.g. Jazz, Pit, Musical Cast), or
– a musical community group (e.g. Youth Symphony or other community group), or
– actively taking private lessons, or
– actively mentoring middle school students.
Submit two letters of recommendation:
– one addressing musical excellence (private teacher, community group leader, or faculty member)
– one addressing academics and character from a GHS faculty member (not a band director)
Chapter Activities
Tri-M Honor Society will have one faculty representative, two (or more) parent representatives, and four student officers (president, vice president, treasurer, and secretary).
Students must make every effort to attend the monthly meetings and participate in the various Tri-M activities and volunteer opportunities.
The GHS Tri-M Honor Society required 10 volunteer hours per year; three must be from a Tri-M specific activity and the remaining seven may come from any other GHS or community volunteer opportunity (volunteer forms must be submitted with a signature from the attending adult representative).